The new 2020 Jeep Renegade review - Dealership in Alberta
Jeep Renegade review from our Dealership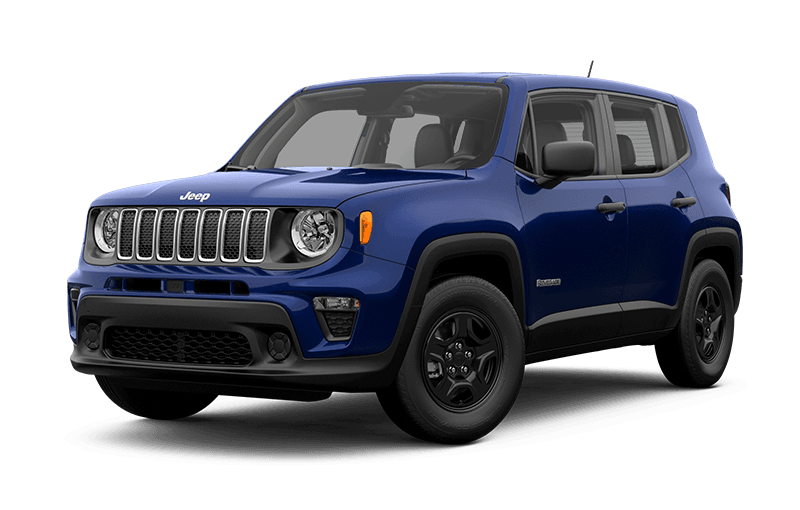 The Jeep brand is perhaps most associated with rugged vehicles which take a no-nonsense approach to off-road adventuring. But their cars can also combine comfort and style, making them an attractive choice to a more mainstream market.
The Jeep Renegade is a perfect example, blending unique looks and everyday practicality alongside the traditional Jeep off-road readiness. Here's what to expect from the all-new 2020 Renegade release.
Distinctive Styling
From first impressions onward, there's no doubt that the Renegade is part of the Jeep family. From the chunky grille and old-school rounded headlights to the slightly boxy profile, this isn't a car that screams racetrack aerodynamics. What it does scream, however, is fun, and it's a cutely accessible take on the off-road concept that nevertheless won't look out of place on a suburban driveway.
Powertrain and Performance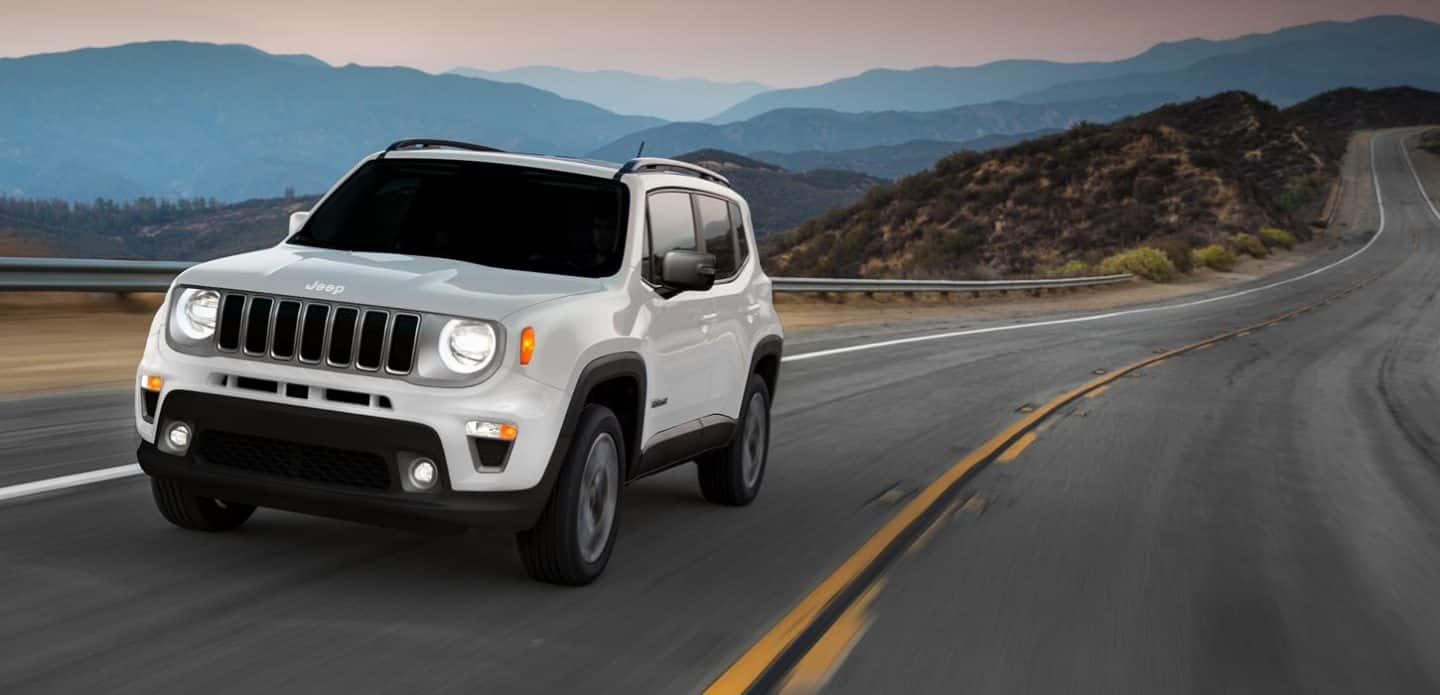 The base level Renegade engine is a 2.4L I4 model familiar from previous years' models. And while this delivers a respectable 180 horsepower with 184lb-ft of torque, there's also a more attractive option available within the 2020 Renegade lineup.
Choose the newly available 1.3L turbocharged I4 mill and you'll enjoy similar raw performance with 177 horsepower and 210lb-ft, but greatly improved fuel economy, lower emissions, and a tighter, more responsive feel under typical city driving conditions.
Both engines are coupled with a 9-speed automatic transmission and either front-wheel or 4-wheel drive, with the Selec-Terrain system offering optimized driving modes for snow, sand, mud and more.
Fuel Economy
The various engine and drivetrain options available mean the Renegade's fuel economy varies considerably between the different trims. However, as an illustration, the 2.4L FWD models offer 10.7L / 100km in the city and 7.8L / 100km on the highway.
The more efficient 1.3L engine gives similar performance at a more impressive 9.8L / 100km (city) and 7.4L / 100km (highway), and will be the preferred choice for drivers looking to keep costs and emissions down.
Across the range, switching to the all-wheel drive option will add around a quarter of a litre per 100km to both the city and highway figures.
Interior Technology and Infotainment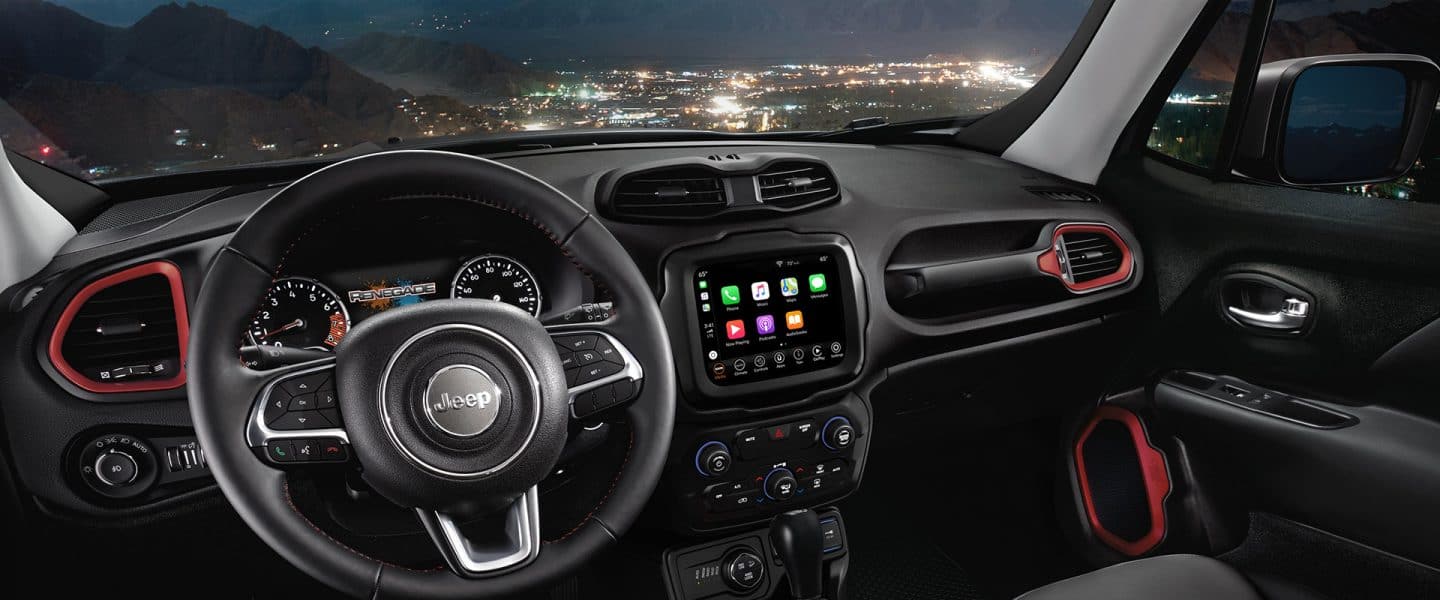 The basic Renegade models are supplied with a 5" infotainment touchscreen along with a second 3.5" LCD instrument display in the gauge cluster. Higher trims see an improved 7" touchscreen paired with a 7" colour instrument display, while the top-level trim features an impressive 8.4" infotainment touchscreen.
All models are supplied with USB ports, audio input jacks, and Bluetooth streaming audio. All trims except the entry level feature Apple CarPlay, Android Auto, and a complementary year's subscription to satellite radio. As standard, the audio is played over a 6-speaker system, although a premium-quality 9-speaker Kenwood system is available as an option.
Safety Features
The Renegade received a 2019 Top Safety Pick rating from the IIHS thanks to its high performance across the board in the standard crash tests. This structural safety record is backed up by a great suite of features offered as options, including:
Adaptive cruise control.Blind spot monitoring.
Lane departure warnings with active lane keeping assist.
Rear cross-traffic alerts.
Forward collision warnings with emergency braking mitigation.
2020 Jeep Renegade Pricing
The entry-level 2020 Jeep Renegade Sport has a Canadian starting price of just $27,358, while the top-level High Altitude edition comes in at an attractive $35,227.
The Final Verdict
There's no doubt about it: the Jeep Renegade is a fun little SUV that's great for daily driving, but also more than capable of a little weekend off-road adventuring. If you're looking for the genuine Jeep experience without the price tag of it's bigger, more powerful siblings, the Renegade deserves a place high up on your shortlist.
Jeep Renegade for sale in our dealership in Alberta